Anetic Aid's DRIVING ambition to overcome the challenges of patient transport in today's economic climate
It is well documented that manual handling accidents are believed to account for 40% of all sickness absence in the NHS - and that a significant percentage of absenteeism is related to the pushing and pulling forces that staff apply to medical devices.
Statistics also show that people generally, and therefore patients, are getting heavier.
For Anetic Aid - the world-leading UK-based manufacturer, designer and supplier of high-quality hospital equipment and furniture - a potential way of mitigating these problems was to develop new, motorised models of its flagship QA3 Patient and Emergency stretchers.
The challenge it faced was to make the new proposition cost-effective: while staff sickness comes with an estimated £3M annual price tag for the NHS (plus ever spiralling costs for legal claims), the stretchers had to be affordable for cash-strapped Trusts with multiple calls on their funds. They also had to incorporate the mechanics of powered travel and positioning without compromising the stretcher's functionality.
As a first step, the team conducted quantitative and qualitative research with its 700 strong QA3 customer base (500 in the UK) - who have collectively bought 20,000 QA3s since 1998 - to establish which aspects of trolley development would be most beneficial to hard-working practitioners.
The design team then got to work, researching materials and available technologies before designing a series of prototypes which were trialled first in the factory and then with customers - including practitioners who were having to manoeuvre stretchers up and down considerable slopes.
Key to the success of the project was measurement: the team at Anetic used a special force measuring device called an 'esense' Ergometer from Dutch health tech company Indes to test the new models against the Health & Safety Executive guidance in relation to acceptable levels of push/pull forces in the workplace.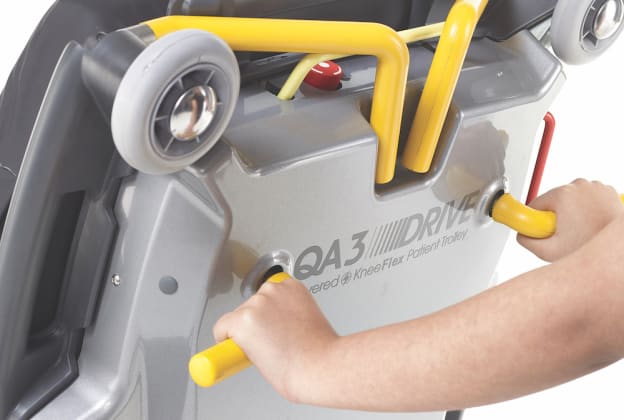 The new range of powered QA3 Patient and Emergency stretchers easily conform to the guidelines and the introduction of power has also enabled other optional features to make the stretchers easier for practitioners to operate:
Platform height – electrically powered raise and lower mechanism
Backrest – electrically powered raise and lower mechanism (plus KneeFlex position on Patient Sretchers)
Powered CPR feature returns the trolley swiftly to a horizontal, optimal height position for CPR treatment
Explained Anetic Aid's Product Manager Mark Lee:
'One our key challenges was how to activate the DRIVE mechanism. The solution was innovative touch sensitive handles – the operator simply presses against the pop-up or fixed yellow pushing handles, and the stretcher will move forward. Pull back on them, and it will reverse; let go and it will stop.
'We have also used an advanced long-life nickel-metal hydride rechargeable battery, which can run the trolley over 22 kilometers on a single charge.
'Already, the new models are making a significant difference to practitioners in Trusts around the country – they are particularly valuable to those based in older buildings where staff have previously had to push trolleys up significant gradients between linked buildings or departments.
'We are delighted that we have been able to utilise some of these major technical innovations in such a positive way in the healthcare industry.'
For more information on our range of QA3 products, or to request a quote, please contact us here.