Stretchers
QA4™ Mobile Surgery System
The QA4™ Mobile Surgery System is perfect for pre-treatment & post-treatment patient transport, as a platform during therapeutic treatment and for post treatment recovery.
The Benefits
From patient transport to treatment
Moving and Handling
With no need to transfer to and from an operating table, the risk of manual handling injuries is reduced
Infection Control
With every device removed from the surgical pathway, so is an element of residual risk associated with cross-contamination
Surgical versatility
To truly meet the brief, the device has to meet the requirements of the full basket of procedures
Whole cycle solution
The one-device approach for transport, treatment and recovery with extraordinary potential and benefits
The Product
Explore the QA4™
Click on the hotspots to read more about each feature
Removable articulating headrest
Easily swapped for specialist versions such as the ophthalmology headrest.
Radiotranslucent platform
100% 'C' arm access
K8 Pressure Care Mattress
Manufactured from temperature-sensitive gel feel foam that moulds to the patient's body shape, relieving pressure by distributing the load as evenly as possible. Outer material is anti-micro bacterial, water resistant, vapour permeable and latex free.
Removable lightweight leg section
Offering maximum surgical access for gynae and urology procedures.
Exceptional low height
Electronically adjusted via the remote handset combined with removable rotating side rails allow easy mount/dismount particularly for frail and elderly patients.
Castors
Polyurethane tyres offer low rolling resistance for high manoeuvrability: 150mm castors fitted as standard.
Cylinder trough
Side loading for ease of access, suitable for wide range of cylinder options including E or CD.
Press on/off 5th wheel steering
Unique mechanism ensures maximum manoeuvrability and easily guided by one person.
Powered functions
Five remotely-activated powered functions – raise and lower, back rest, traversing top, lateral tilt and Trendelenburg.
Reduced manual handling
Zero transfers mean risk is minimized for patient and practitioner alike: from the ward, through anaesthetics, to the surgical procedure, and finally to first and second recovery.
Removable rotating side rails
Providing safety for transport, but removable for maximum surgical access.
A model for every need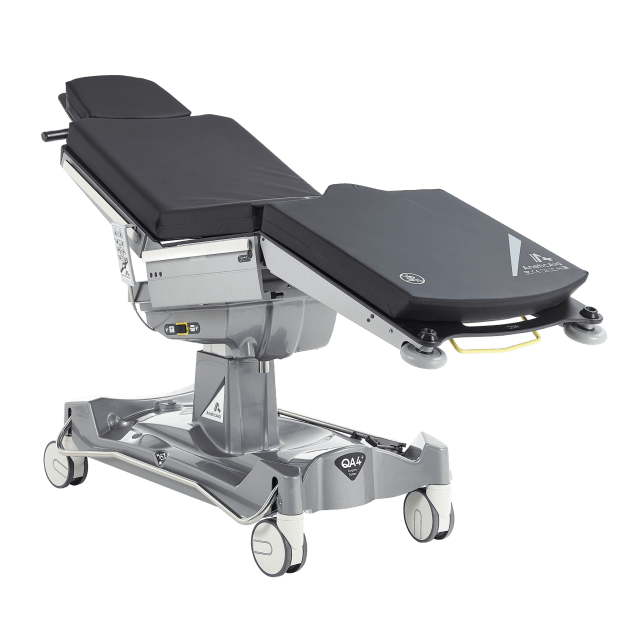 QA4™ Powered Mobile Surgery
With remotely-activated powered functions, the QA4™ Powered Mobile Surgery System offers full 'C' arm coverage, superior surgical access and exceptional stability.
Electrically powered functions
Superior surgical access
Traversing patient platform
100% 'C' arm access
Lateral tilt
250kg weight capacity
Find out more
QA4™ Mobile Surgery
Excellent manoeuvrability and easy-to-use hand operated functions make the manually operated QA4™ Mobile Surgery System a cost effective option.
Mechanically powered functions
Increased surgical access
Supremely light weight and manoeuvrable
75% 'C' Arm access
Cost effective solution
160kg weight capacity
Find out more
Accessorise your QA4
Customise the QA4™ to suit your departments requirements with our range of accessories.
See QA4™ accessories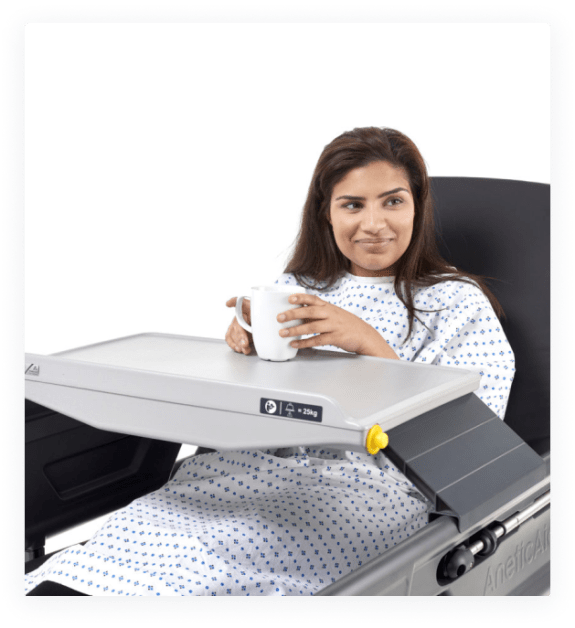 For a QA4 Powered Mobile Surgery System (21300), the maximum patient weight is 250kg (40 stone) in any position. For a QA4 Mobile Surgery System (21310) it is 160kg (25 stone). Refer to the instructions for use for full information.
Depending on their clinical health, a patient can lay on a QA4 Mobile Surgery System mattress for in excess of 23 hours (in conjunction with tissue viability good practice). Contact us for further information.
The whole trolley, including the mattress, can be cleaned & disinfected by hand using a neutral detergent and either an alcohol, Chlorine (<10,000ppm), hydrogen peroxide (3 to 25%) or quaternary ammonium (3-15%) compound based disinfectants. Refer to the instructions for use for full information.
Every QA4 is supplied with a 12 month warranty that can be extended to 10 years from the date of sale through an AnetiCare service contract. Contact us for further information.
A fully charged, healthy, QA4 battery will last a full days list before needing to be placed on charge. Refer to the instructions for use for full information.