What's the connection between The Emilia Romagna Grand Prix in Imola, Italy this autumn and UK medical equipment manufacturer Anetic Aid?
The answer… the QA3 Emergency stretcher: for the company's Italian Distributor Sago, was asked to supply two of specially equipped stretchers for the site's state-of-the-art medical centre in time for the race weekend this autumn.
Fortunately, they were not needed as the action was all on the track and six-times Formula 1 World Champion, Lewis Hamilton, notched up another amazing win.
The event was showcased in Anetic Aid's latest customer magazine, Clinical Essentials, which has just been published, also detailing a host of new products and special offers.
A recent addition to the company's range of operating table accessories is the HipFixTM – a Danish system designed to aid accurate alignment of implant components for hip replacement surgeries.
Patient safety is also the key feature of another new product – the Finned Elite Lift-AssistTM Lithotomy Stirrup. As its name suggests, it has a 'fin'-shaped support at the knee, which, together with a squeeze-grip handle offers even great control when manoeuvring patients weighing up to 227kg.
As well highlighting individual items, the magazine also featured some of the team behind the scenes, building and supporting Anetic Aid products in the field.
The company was delighted to report that new jobs have been created at its manufacturing plant near Portsmouth on the South Coast, as well as saluting its team of field engineers who have been working throughout the pandemic, carrying out repairs and scheduled servicing in hospitals up and down the country to keep equipment working efficiently.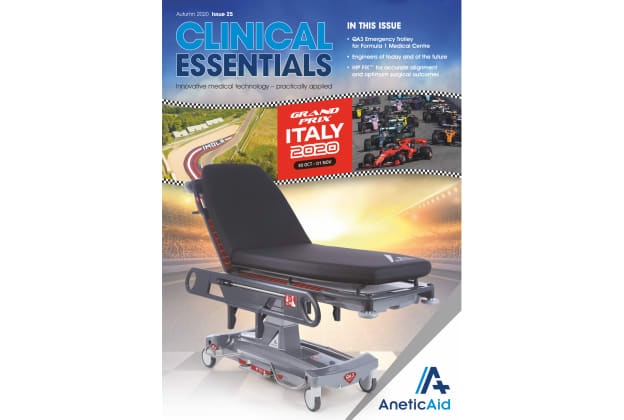 For more information, or to request a quote for the QA3 Emergency Stretcher, please contact us here.