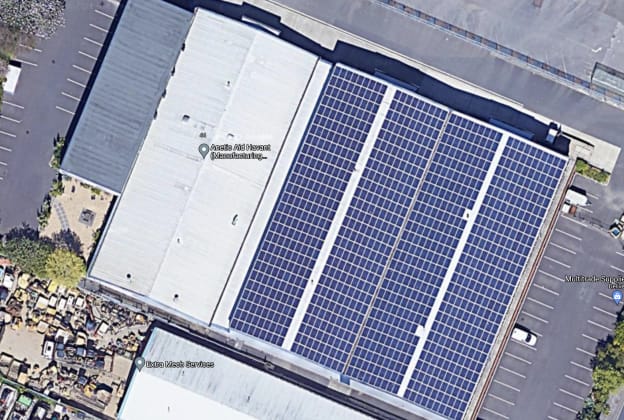 Our green commitment to sustainability with patient stretchers.
Anetic Aid is fully committed to sustainability in as many areas of operation as possible, minimising our carbon footprint for our products and customer service operations. Production miles: all our stretchers and trolleys are not only designed and built in the UK, but of the 450 individual components involved, 97% are sourced from UK companies. Electricity: 60% of the electricity used across our two sites is self-generated from solar panels – at peak periods, we export the electricity we can't store back to the grid, an amount equal to the self-generated electricity used.
Low energy LED lighting is fitted across both the Baildon and Havant sites. Recycling: we recycle all batteries and, where possible, plastic and cardboard. We follow government Waste Electrical and Electronic Equipment recycling (WEEE) regulations and have a system of different coloured recycling bins at our manufacturing facility in Havant, allowing different waste materials to be more easily identified.
Because we build every QA3 to order, we limit the environmental impact warehousing the large numbers of patient stretchers we sell each year would create, in square meterage of land and the demand on energy consumption that would require - for what would be a low usage premises compared to one building to order. We recognise that delivering goods "from stock" comes at an environmental cost and offers fewer employment opportunities.
We also use a local consolidated haulier that minimises the impact of vehicle emissions, compared to those individual dedicated deliveries would create. Our demonstration model stretchers are delivered by the regional account manager – rather than separate dedicated transport - all of whom use hybrid vehicles.
Download the QA3 Emergency Carbon Footprint insert here
For more information on our QA3 Patient and Emergency Stretchers, or to request a quote, please contact us here.