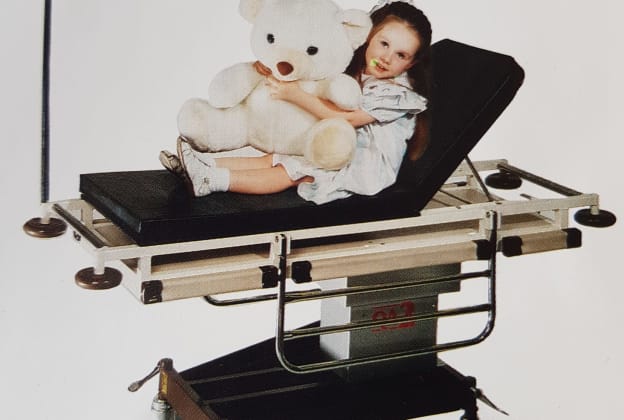 There was a touch of déjà vu for one of Anetic Aid's Service Engineers a few weeks ago…

Steve Barker's granddaughter, Elsie, ended up on a QA3 Emergency Stretcher after falling and breaking her wrist while on holiday in the New Forest.
Steve's daughter Amy (Elsie's mum) sent him a photo of the plucky 9-year-old when she was admitted to hospital to have the fracture manipulated and plastered…. mirroring another photograph he had taken 30 years ago of Amy herself on a previous version of the trolley, the QA2.
Explained Steve: 'On the first occasion it was just a promotional shot to demonstrate what was then our 'new' trolley, while this time we needed the trolley for 'real' … but it felt a bit ironic all the same.'
'I'm pleased to say Elsie's on the mend now, thanks to the great team at Salisbury District Hospital – which is also one of the Trusts I look after on the service and maintenance side.
'It seems they just can't get away from Anetic Aid and the Barker family!'
For more information on the QA3 Emergency Stretcher, click here. Alternatively, please contact us.