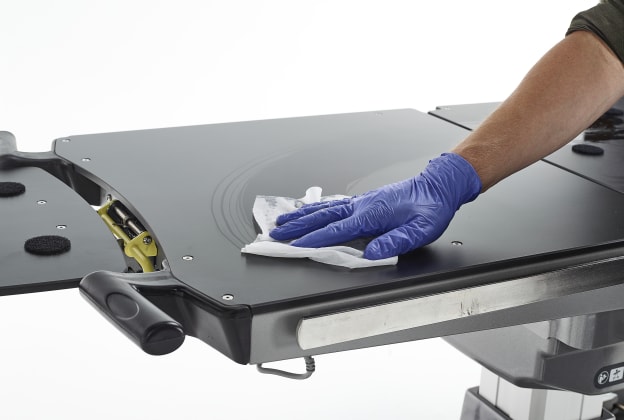 Infection control has always been a key consideration in the design of medical equipment – and the pandemic has emphasised its importance even more.

It is a key attribute of the QA4™ Mobile Surgery System, not least because the use of a single device for the patient journey - transport, treatment and recovery – means there is less risk of cross infection.
The K8 pressure care mattress fitted to the trolley is made from two foam elements – a combination designed to distribute the patient's weight as evenly as possible across the surface area. This minimises the risk of pressure sores, a particular concern when the patient is immobile during surgery. Both foam elements have antibacterial and microbial fungistatic properties – and the latex-free, outer cover to each mattress is also made of an anti-microbacterial, water resistant, vapour permeable material. This means it is not only contamination-resistant, but it also allows the skin to breathe – for greater patient comfort.
Finally, our unique ultrasonic sealing system effectively welds the seams of the outer cover material together to give an almost unbreakable seal, making the K8 a class leader in infection control.
The K8 mattress is also fitted as standard to all models in our QA3 Patient and Emergency Stretcher ranges – and we use the same construction for the pads on many of our Operating Table Accessories.
Hygiene considerations are built into our trolley ranges in other ways too – smooth moulded surfaces and acrylic capped vac formings enclose steering mechanisms and electronics to minimise dirt traps and make them easy to clean.
And it doesn't stop there: our stainless steel furniture range isn't just mechanically polished – it's electropolished. This process produces products with an even smoother surface – removing crests and valleys invisible to the naked eye – making it less likely that any matter such as dirt or bacteria will adhere to the surface of the steel.
For more information about all of our products, click here. Alternatively, you can also contact the team here.