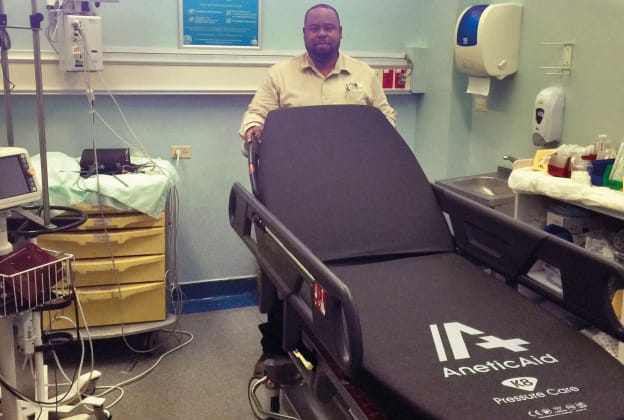 One of our first international contracts for our new QA3 Powered Patient Stretcher was the Scarborough General Hospital on the island of Tobago.
Our Distributor, Sean Fortune of REMS Solutions, was on hand to commission the 11 models when they arrived at the hospital as well as carrying out comprehensive staff training.
He told Clinical Essentials that ease of Moving and Handling were key criteria for the hospital in choosing new equipment.
The powered features include:
Platform height – electrically powered raise and lower mechanism
Offers smooth movement to position the stretcher at any point in its height range – 475mm to 775mm (excluding mattress)
Backrest – electrically powered raise and lower mechanism
Positions the backrest anywhere between the vertical and horizontal for maximum patient comfort
CPR feature – at the touch of a button
If a patient needs CPR treatment, there is no time to lose: the powered CPR feature returns the stretcher swiftly to a horizontal, optimal height position for CPR treatment
And of course, these new QA3 models still have the features which have made it the stretcher of choice for so many practitioners:
Side Rails which fold away under the footprint of the mattress, leaving virtually no transfer gap
Exceptionally low height range
K8 Pressure care mattress
Quick release fixed transfusion pole
Smooth moulded surfaces to aid infection control
If you want to find out more about our QA3 Powered Patient Stretcher, you can click here; alternatively, please contact us.